Code Name Verity
, is out today in North America. It's been out in the UK since February, so this is the next big push! I'm having a virtual launch party and giveaway on my blog if you feel like stopping by!
http://eegatland.livejournal.com/92966.html
My new book,
I've just decided to delete one of my posts here because it's started attracting so many spam comments in Russian. I *may* eventually be forced to leave LiveJournal as a result of spam comments in Russian -- they seem to be getting harder and harder both to detect and to delete! grrr. Is it just me?
SUNDAY, AUGUST 02, 2009
Arvon's Writing for Teenagers Course with Malorie and Melvin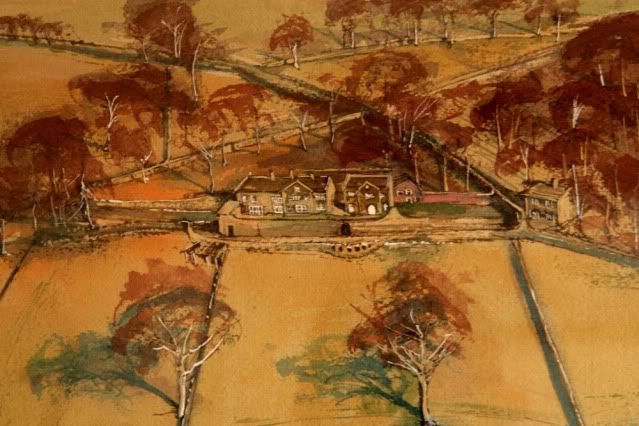 This painting of Lumb Bank was hanging in my room
Just got back from
Ted Hughes' house on Lumb Bank
five days with 16 other writers interested in writing for teenagers - 16 rather GOOD writers, I hasten to add. One of my fellow students was 17 years old, still a teenager herself, possibly the next Zadie Smith if she decides this is her thing.
I thought Lumb Bank was in the Yorkshire Dales but it turned out it was just East of Manchester, up the M1 and turn left, through Halifax and up some hilly bits.
Miriam
drove (thanks Miri!).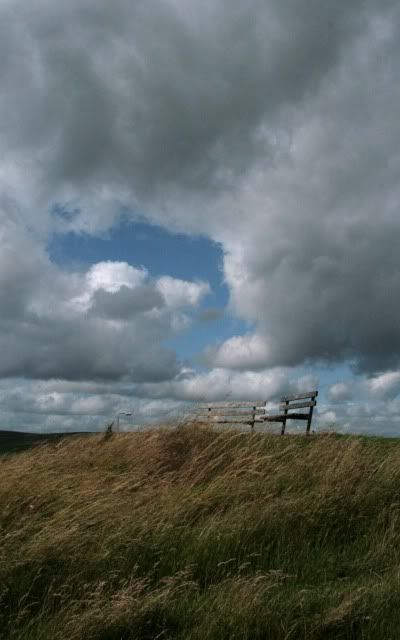 We were told to look out for these benches at the top of a little lane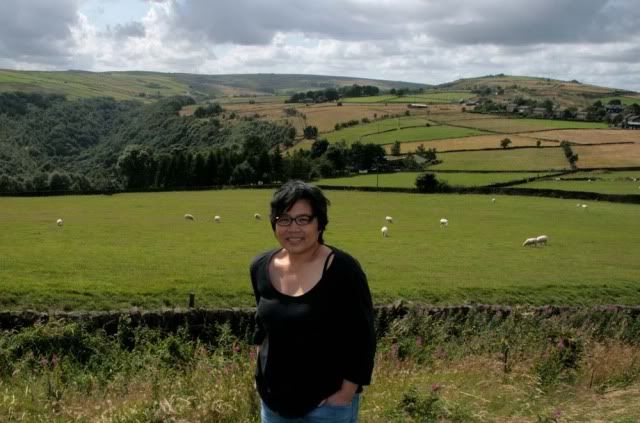 We stopped for pictures before winding our way down the hill.
This was the bit of the house looking down a hill at a magnificent view, with disused mills, woods, and a river.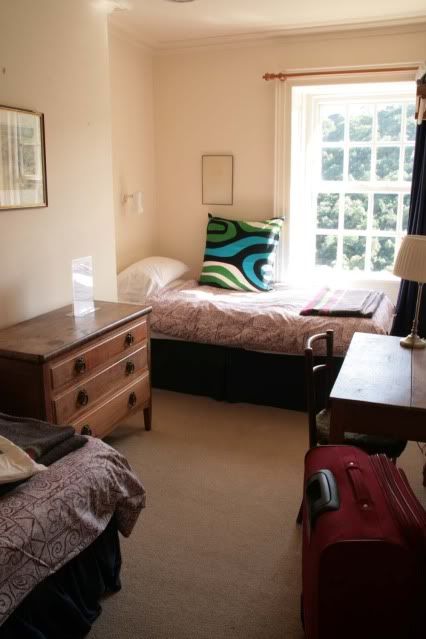 I had room number one at the top of the stairs.
Our tutors for the teenage writing week were Melvin Burgess (
Junk
,
Nicholas Dane
) and Malorie Blackman (
Noughts and Crosses
,
Double Cross
)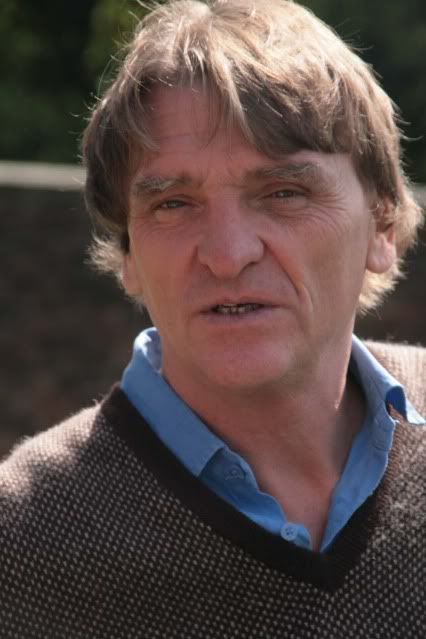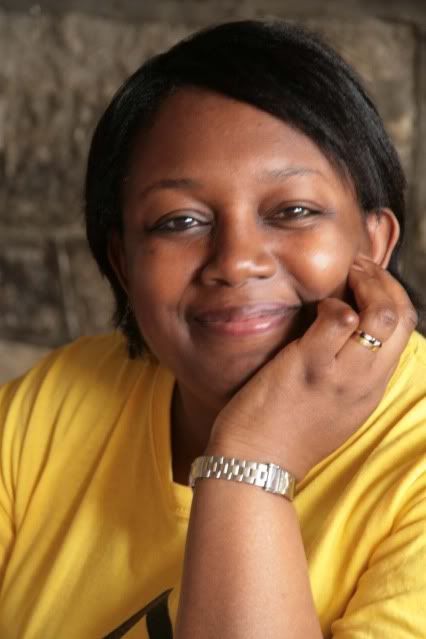 Malorie and Melvin.
Melvin and Malorie alternated mornings teaching us about plot, character, dialogue with writing exercises that started out at 10 minutes each and by the last day was reduced to three minutes each ... they didn't want to give us the chance to think, to resist, to give up. We submitted samples of our writing to M&M and had one-on-one meetings with each of them in the afternoon to discuss our work and prospects in publishing.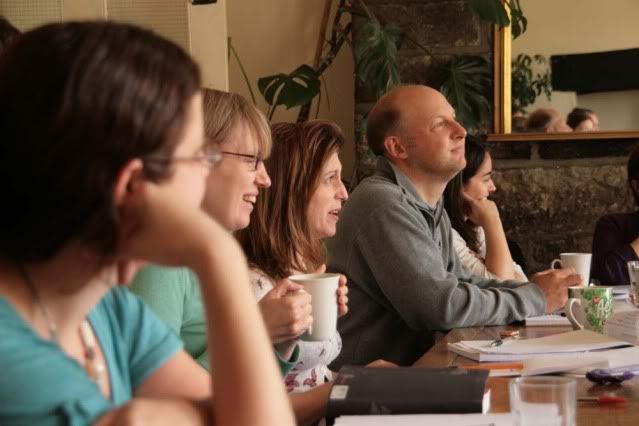 We sat around a massive table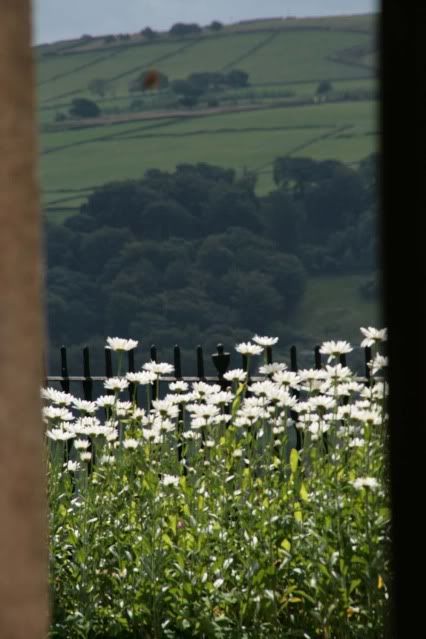 View outside door as we worked on a rare sunny day.
Malorie made ALL of us read, recalling one tutor's sage words in the early days when she was reluctant to share
her
work :
Tutor: Malorie do you want to be a writer?

Malorie: More than anything else in the world.

Tutor: Well You've got to shit or get off the pot.
The sunshine on the day we arrived turned out to be a red herring. The heavens poured throughout the week. On the few hours when there was no rain, some of us managed to go for walks and visit the nearby village of Heptonstall where Sylvia Plath is buried in a sad, untended plot adorned with tacky souvenirs from her fans.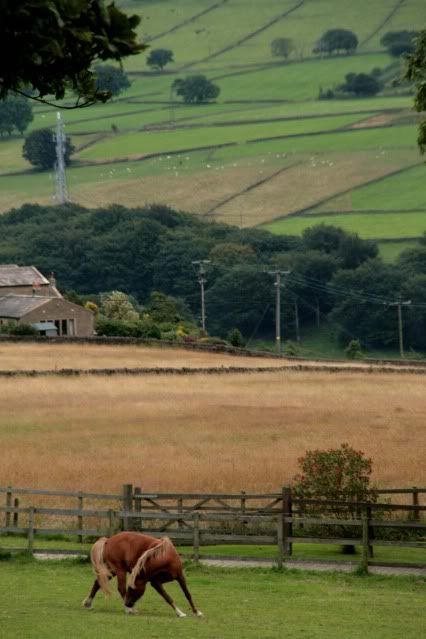 A rare sunny day.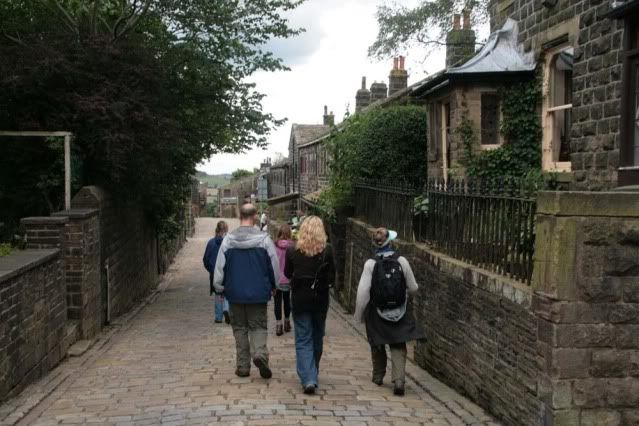 The Village of Heptonstall.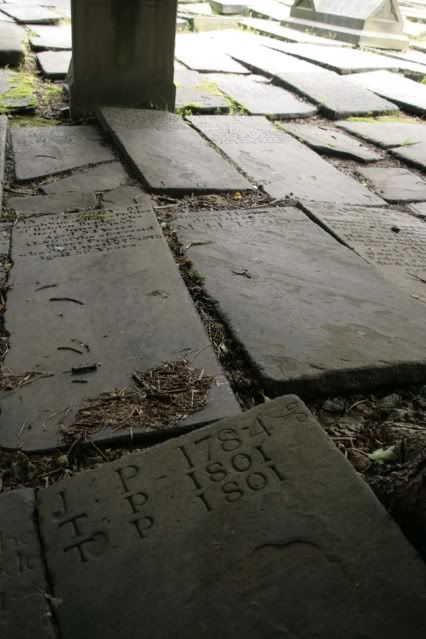 Ancient tombstones laid out in the churchyard.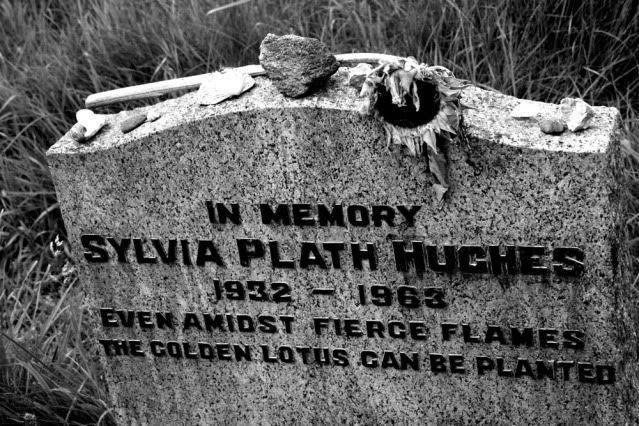 Sylvia Plath's headstone. (my camera mysteriously switched to monochrome)
It was a heady week for me. I'd been deep in the mangle of making a living and writing had not been coming easily. Melvin and Malorie opened my rusty tap and allowed the words to flow.
It poured again on the way home.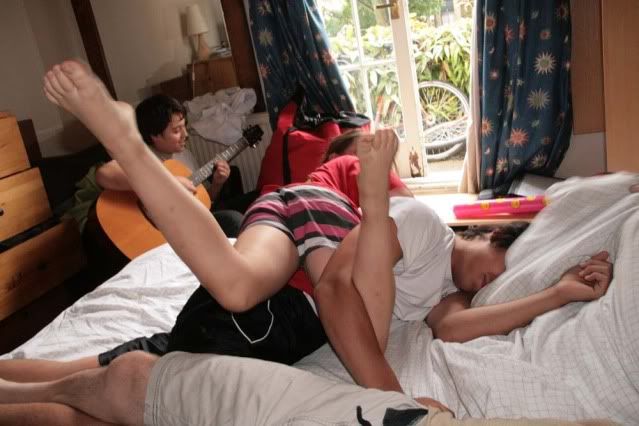 Never mind the rain, my homecoming with all the children tumbling all over the bed was fantastic.
My suitcase was several books heavier after the trip. And I take heart from these words of encouragement from Melvin.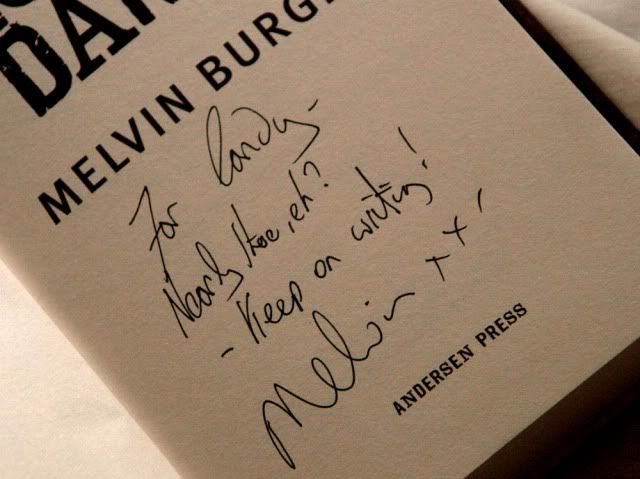 I am cross-posting this from my Notes from the Slushpile blog!
It's been an eventful last few days and I thought I'd blog about it before it was too late as my life is currently feeling like a 33 rpm record running on 45 or was it a 45 running on 33 (remember those? LPs? Record players? If not, then I'm pleased to meet you ... I'm rather keen on younger readers.)
I attended the launch of
Devil's Kiss
, the goth-lit teenage novel by my fellow SCBWIite
Sarwat Chadda
. I felt rather underdressed when he greeted us with his spear and shield.
The Dulwich Picture Gallery was a fab place to hold the launch, the weather held for most of the evening and the food was delicious! People queued to say nice things to Sarwat but I thought the greatest compliment was paid by this teenager sitting outside the crowd of wellwishers, totally glued to the Devil's Kiss.
There were several Undiscovered Voices authors there - Steve Hartley, whose Danny Baker Record Breaker, is due to be published by Macmillan, me, Margaret Carey, and Briony Pearce - who after winning UV, wrote another novel and had another baby (good news about this very soon ... ). Which reminds me, the deadline for the 2009 Undiscovered Voices competition is the 1st of June!

Here is Bryony and family (the baby came in chain mail and her little girl came in a princess gown ... all made by Briony with one hand while typing up her novel with the other.
Immediately after the launch, a small convoy (well, two cars) of SCBWI people drove up the motorway to Pendrell Hall in Wolverhampton to join SCBWI's weekend retreat. Our author in residence was Mary Hoffman, who I think has pretty much reached the status of national treasure. When she began to read from the latest Amazing Grace book Princess Grace, I wanted to climb onto her lap and suck my thumb.
We had two editors spend time with us, Jasmine from Oxford University Press and Non from Catnip. Here's a nice photo of Jasmine:
There's lots to report of course - we learned so much from Mary and the editors, we ate a lot, laughed nonstop, and despite it being a retreat, I was so happy to be writing without any hindrance (and without having to stop to cook for the family!) that I barely slept, pounding away at the laptop into the wee hours! I hope to find the time to blog about the nuts and bolts but for now I just want to share these piccies!
Till next year!
It is my great pleasure to invite you to take part of a new illustration and storytelling project on my blog. It will consist of a series of illustrations and short stories of curious characters that I will be posting every week.
The project needs your collaboration and it will include monthly giveaways of special signed watercolor prints of some of your favorite illustrations and characters.
Please be my guest and take part in this project with me!
Read all about it here:
http://www.koldobarroso.com/help-me-bring-creatures-to-life/
This is the final part of School Librarians Revealed, a report on the joint SCBWI-BI Central East Region/Ipswich Children's Book Group meeting with two Suffolk school librarians: Jayne Gould and Alison Baker.
Authors are Real People: The Secrets of School Visits
Children really love to have authors come into school and often feel that they are meeting "a famous person". So it's not surprise publishers are very keen to have authors come into school or go on tour. Pupils find writing workshops very good and are always interested in hearing how writers go about writing, for example, Jeremy Strong talks about his writing shed.
When writers come into school they need to be able to "hold" a class and talk to them. Often the best authors have some sort of show, do something special and sparkle. But authors don't need to be all singing all dancing. Douglas Hill, for example, had a very quiet presence and delivery, but still held the children with the story he told.
Writer should have a plan and know what they are going to talk about or do. If the children are misbehaving author shouldn't be afraid to make them pay attention rather than waiting for teachers or librarians to intervene. Anne Cassidy told off three girls at the back of an audience of 100 for talking and the students were far more shocked at being picked out by the author than they would have been being told off by a teacher.
Authors also need to be flexible and adaptable. "Don't panic when things go off plan, just go with the flow," suggest Allison, "and the children will respond." Keep an eye on the audience - if you're losing their interest, wind things up quickly.
Best Books of Last Year
As part of our discussion we talked about what everyone in the audience and on the panel thought were the best books published last year or once there are most excited about when they read them.
All three of the Charlie Fletcher books — about statues coming to life in London: Stoneheart, Ironhand and Silvertongue.

Gideon the Cutpurse by Linda Buckley-Archer - the third instalment is hotly anticipated!

The final book of the Noughts and Crosses Trilogy – Checkmate by Malorie Blackman

Skulduggery Pleasant by Derek Landy. It was considered a big book to get into, but it was a nice story and a good adventure that attracted a wide range of readers in the school libraries. Interestingly, it genuinely crossed the gender divide because girls like Valkyrie Cain and boys like Skulduggery.
Favourite books
The Dragonfly Pool by Eva Ibbotson is regarded as a modern classic. Many librarians felt they could constantly give it to any child who could read and that they know that there isn't anything bad to take from it, but a good story.
The Penderwicks by Jeanne Birdsal (www.jeannebirdsall.com) is very highly thought of by Jayne, but had not had much success yet selling it to students.
The London Eye Mystery by the late Siobhan Dowd was very popular with year four onwards at Broke Hall School.
Alison felt he couldn't go wrong Michael Morpurgo.
Mrs Marriage Project by Pauline Fisk — this book caught the imagination of one librarian, but she couldn't sell it to most of the girls in her school.
Boy Books and Girl Books
Authors that bridge the gender divide
· Robert Muchamore
· Roald Dahl
· Michael Murporgo
· JK Rowling
Books that bridge the gender divide
· Horrid Henry by Francesca Simon and Tony Ross
· Skulduggery Pleasant by Derek Landy
· London Eye Mystery by Siobhan Dowd
· Percy Jackson by Rick Riordan (very popular with year six)
· Vampirates by Justin Somper
· The Series of Unfortunate Events by Lemony Snickett
· The Roman Mysteries by Caroline Laurence
· Spiderwick Chronicles by Holly Black and Tony DiTerlizzi
There are obviously many books that would definitely are boy read or girl reads. One librarian had tried very hard to persuade boys to read "Not Quite a Mermaid", but could not overcome the pink cover. During a session on choosing books, Not Quite a Mermaid was a definite no when judged by the cover, it became a probably not when the blurb was read out, but, after being read the beginning of the story the boys were interested in it, but would not borrowed because of the pink cover.
And, Finally….
Jayne had a very interesting exercise with some of her year six pupils to help them break away for what they normally read and to read something different. She selected books for each of the pupils and put them in an envelope which they were not allowed to open until they were back in the classroom. They were told to have a go at the book and to come back and talk about it. The pupils were excited by the exercise and it worked very well.

I'd like to thank Jayne Gould and Alison Baker as well as everyone who attended the discussion at Broke Hall School. I'm also very grateful to the school for allowing us to have our meeting their with the Ipswich Children's Book Group. You can find out more about British SCBWI by visiting http://britishscbwi.jimdo.com/
To read an extended version of this entry, visit:
http://benjaminscottauthor.wordpress.com/2009/04/25/school-librarians-revealed-part-4-%e2%80%93-best-books-and-writing-sheds/

This is part three of School Librarians Revealed, a report on the joint SCBWI-BI Central East Region/Ipswich Children's Book Group meeting with two Suffolk school librarians: Jayne Gould and Alison Baker.
What Librarians Want: Gaps on the Shelves
We talked with our panel and audience about what they felt the gaps on their shelves were and the books they wished more writers and publishers were producing.
*Good but not lengthy fantasy - Spiderwick Chronicles (Holly Black and Tony DiTertizzi) were really popular (although helped by the film).
*Broke Hall School finds it hard to keep Horrid Henry (Francesca Simon and Tony Ross) and Beast Quest (Adam Blade) on the shelves, so more like these would go down well.
*Good, short books that would make good class readers for Year Five/Six would be welcomed. Anything ideal for teachers to read aloud to their class, but doesn't take up a term to read, would be good. Once by Morris Gleitzman was cited as a good example of a book very easy to get through in class but has a lot to build lessons and discussions around.
*Fiction about Sport, for example, a rugby series.
Laugh Out Loud Funny
*More humorous stories for older readers - somewhere between Horrid Henry/Jeremy Strong (too young) and Louise Rennison (too old).
High Interest, Lower Challenge
High interest level but easy reading books are in great demand. One in 10 students at Stoke High School is an EAL (English as an Additional Language) student, many from a Polish, Portuguese or Afghan background. It is difficult to source books in their own language to help them keep up their mother tongue as well as helping them to read English.
This is even more of a problem in special need schools, where teenage interest needs to be expressed at Biff and Kipper reading level. Students who use the Makaton symbol system to aid their reading find it hard to have any books suitable for them and staff often resort to remaking the books for their students. As an audience member said, it's like "learning to play the piano at 11 and having to play nursery rhymes. It's embarrassing."
Scary
Students are always asking for "really scary books" (from Year Three onwards). However, what staff find scary and what the students find scary is another matter.
From Scary to Censorship
Interestingly, Darren Shan is not stocked by many librarians. In the primary school library in particularly there was a fine line between stocking a wide range of books and keeping them suitable. Even Robert Muchamore's CHERUB series is not stocked after the second book at some libraries because it was felt the violence and teenage content escalates through the series, although CHERUB is very popular with many students.
Manga is popular at the high school library, but titles are selected with great care as most of the publications are only suitable for 18+ (and often contain offensive (violent and sexual) material not suitable for a school library). The school does have a Manga club -- which also has a cultural focus on Japan. However, most manga's violence and gore is mild compared with many of the computer games children play.
However, it could be argued that it is better to read about some of these areas than it is to see it on TV. At least with reading, there can be a difference between what is written and what is understood by the reader. Most people recognise the children see worst things at home -- many students have watched 16 and 18 rated movies with their parents. (Year One, Two and Three students have seen Lord Of the Rings, and at least one Year One student has seen The Dark Knight).
Biography
Age appropriate biographies are a real gap in the market. Marley and Me by John Grogan was cited as a prime example of a biography that worked very well. The author adapted to his biography for younger readers (Marley: A Dog like No Other) and it's very popular. The students would not have tackled the adult version.
Many girls are into the so-called agony biographies -- often led by their mothers reading, for example, Child Called It (David Pelzer) or My Sister's Keeper (Jody Peacock). While the grown-up version isn't really suitable for Year Six, an age-appropriate version would be desirable.
Coming soon - Part 4: What are the Best Books and Who Writes in a Shed?
To read an extended version of this entry, visit: http://benjaminscottauthor.wordpress.com/2009/04/18/school-librarians-revealed-part-3-the-books-librarians-want-written/
Current Mood:

curious
This is part two of School Librarians Revealed, a report on the joint SCBWI-BI Central East Region/Ipswich Children's Book Group meeting with two Suffolk school librarians: Jayne Gould and Alison Baker.
The Book Keepers: The Role of Librarians
"The only way you can learn to make choices is by making choices," says Jayne Gould, "and part of that process is making the wrong choice". Despite the temptation to interfere in children's reading choices, most librarians felt that only in exceptional circumstances do they step in. They support a pupil's right to make choice and try a book.
Librarians are keen to encourage pupils to read and to keep them borrowing books. Part of the process is helping pupils find something appropriate, by both content and reading age, and, at the same time, challenging. They also have a role to play in helping developing readers.
Problems do occur, for example, in Broke Hall School, Year Four boys started going for the longest books they could find so they could be seen reading "great thick books". But many of these books came back the next day because they were too challenging a read. So Jayne Gould worked very closely with teachers to establish reading scheme: specially chosen books were placed in five colour types and the students had to read one book from each of the coloured tubs in order to get a gold certificate.
In the older school, the problem can be the opposite. Year Nine students still take out Horrid Henry when they should be challenging themselves, although with a mix of reading abilities, some students still need something more appropriate to their reading age, like quick reads.
Stoke High School has had a lot of success with a paired reading scheme. Pupils who read at below chronological age, but not low enough for corrective reading, are paired with stronger, older readers. They meet twice a week for 20 minutes to practice reading out loud. The scheme not only makes dramatic improvements to reading ability (and enjoyment) over six months but also creates some strong friendships. It is not unusual for pupils to improve their reading age by two years during the scheme. It also helps the students to learn to pick appropriate books and get satisfaction from being able to get into and to the end of the story.
Age banding
The move by many UK publishers to start "age-banding" books is hot topic of the moment. Unsurprising to anyone listening to the debates, staff in schools are almost universal opposition to age banding because it would stop a lot of children picking up books.
Students are largely self censoring. They often don't want to read something that is not suitable for them and they will bring them back. An 11-year-old girl in one library borrowed a book that had been put into the library by a previous librarian and returned it for being too explicit. Most readers will stop if they are uncomfortable with the book.
Even in the high school library, most of the students do not look at the adult book section. Alison Baker jokes that they've trained them all well! However, Year 10 and 11 students do read Agatha Christie, Mills and Boon and "good adventure stories".
During her days as a bookseller, Jayne had a customer who wanted to buy the classic Black Beauty (by Anna Sewell) for a 5 year old without realising that might be inappropriate for the youngster.
The difficult comes with people who don't work closely with children or know the children's books market. How do they make choices to buy books for children? It would be helpful to the "grandparents" buying books, but at the heavy price of stigmatising children and excluding many from the pleasures of reading.
For more information on the age banding debate visit:
Coming soon - Part 3: The Books Librarians Want Written - watch this blog!
To read an extended version of this entry, visit: http://benjaminscottauthor.wordpress.com/2009/04/11/school-librarians-revealed-part-2-%e2%80%93-keepers-of-books/
Current Mood:

confused
On 21 January 2009, SCBWI Central East Region and the Ipswich Children's Book Group held a joint meeting at Broke Hall School (Ipswich) to hear from two Suffolk schools librarians. Jayne Gould and Alison Baker were kind enough to come and talk about themselves and their libraries.
A Tale of Two Libraries: how different school libraries work
The Stoke High School Library operates from a single room, but is a school library and a public branch library. It has two sets of staff (one for each function) and two sets of stock, although the stamped school stock is interfiled. Alison Baker is the Stoke High School librarian and has worked there for over 10 years. She started as a branch librarian before moving to the school side when they needed a chartered librarian.
Broke Hall School Library is not shut away in a separate room, but part of a school thoroughfare so most children pass through it every day. It has grown alongside the expansion of the school (which now has over 600 children) and has had a librarian, Jayne Gould, since 2000 (she was previously a children's bookseller at the Ancient House, Ipswich). The library has over 15,000 books on its catalogue and is one of the largest school libraries in Suffolk. It is one of the few that has a dedicated librarian.
Book Fairies: How Books Appear on the Shelves
Both librarians listen to what students ask for - suggestion cards are also used for students to write down books, authors or topics they want stocked. Children need feel they have ownership of the library and are encouraged to talk about what they read.
Pupils talk to each other about the books they read, so that often filters through to requests for stock. Children are often influenced by the display in Waterstone's, WH Smith and Tesco.
Authors' visits have a very profound effect on borrowing which extends far beyond the few weeks after their visit, for example, even a year after her visit to Stoke High School, Anne Cassidy's books continue to be in great demand (there is already a long waiting list for her new book).
Film and TV adaptations have a huge influence too. They often draw in new readers and encourage existing readers to challenge themselves with longer books.
The greatest challenge is keeping up-to-date with what is being published. A lot of decisions about stock are made on the basis of reviews and children's books magazines (like Carousel - http://www.carouselguide.co.uk/). Jayne's background as a bookseller and membership of the local Children's Book Group has proved invaluable.
Gaps in stocks are always highlighted when students undertake individual or group projects on "what interests them." Alison tries to suggest students pick their projects only after they've looked on the shelves. But students still challenge the libraries with eclectic or esoteric requests, for example, books on boxing, or slugs and snails. When projects are about exotic animals, reference works can be hard to source, for example, books on Golden Tamarins.
Ultimately, librarians seem to work on gut instinct and knowing the children in their school. Budgets are obviously an issue and some creativity is needed in building up stocks, for example, feeding in commission from book fairs and adding the occasional review copy to the library.
Coming soon - Part 2: Keepers of Books. Watch this blog!
To read an extended version of the entry visit: http://benjaminscottauthor.wordpress.com/2009/04/03/school-librarians-revealed-part-1-%e2%80%93-book-fairies-and-golden-tamarins/